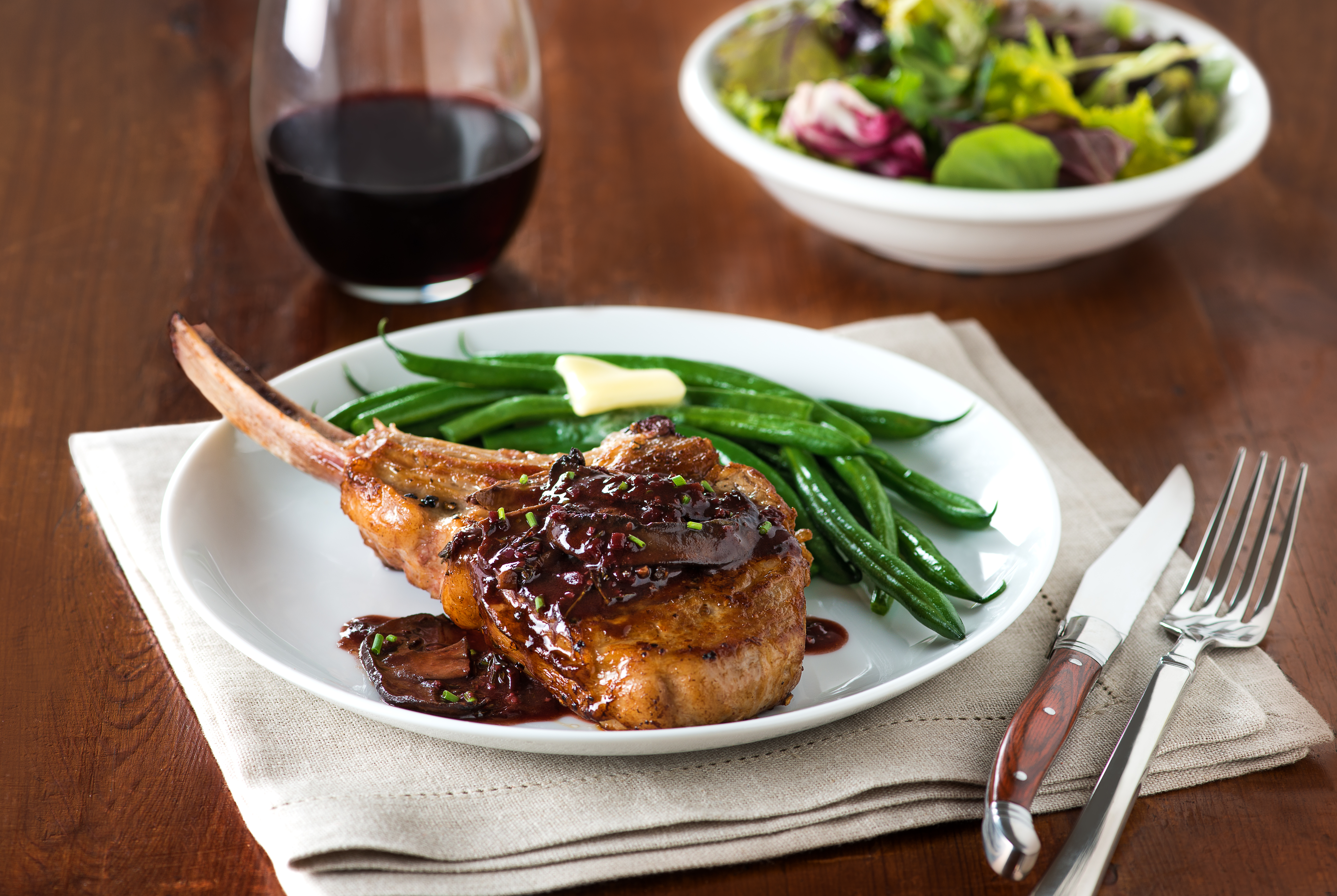 Preparation Time: 15 minutes
Total Time: 25 minutes
Servings: 4
Ingredients
1/2 ounce dried porcini mushrooms
4 LiberTerre veal chops, bone-in
3/4 tsp salt, divided
1 tsp crushed mixed peppercorns
3 tbsp extra virgin olive oil, divided
3 cups sliced baby Portobello mushrooms
1 shallot, minced
1 clove garlic, minced
1 tbsp chopped thyme
1 tsp tomato paste
3/4 cup dry red wine
3/4 cup beef stock
1 tsp grainy mustard
2 tbsp unsalted butter
1 tbsp chives Green beans, for serving
Directions
Preheat oven to 400°F. Soak dried porcini mushrooms in hot water until softened, about 15 minutes. Strain mushrooms and reserve 1/4 cup mushroom liquid. Chop and set aside.
Season veal chops with 1/2 tsp salt and crushed mixed peppercorns. Heat 2 tbsp olive oil in a large skillet set over medium-high heat. Sear veal chops, in batches if necessary, for 3 to 5 minutes per side or until browned. Transfer to baking sheet; roast in oven for 5 to 8 minutes or until medium rare and internal temperature reads 145°F. Let rest for 10 minutes before serving.
Meanwhile, heat remaining oil in the same skillet set over medium high heat, add Portobello mushrooms and remaining salt and pepper; sauté for 5 to 7 minutes or until golden brown; transfer to plate. Add shallot, garlic, thyme and reserved soaked mushrooms. Sauté for 1 to 2 minutes or until shallots are tender. Stir in tomato paste and cook for 1 minute. Stir in dry red wine; cook until reduced by half. Add beef stock and reserved mushroom liquid and continue to cook until slightly thickened.
Add Portobello mushrooms back to pan and any juices from veal chops; heat through. Stir in mustard. Remove pan from heat and swirl in butter until just melted and sauce is thickened. Stir in chopped chives. Serve veal chops with sauce.
Tips
Add splash of whipping cream to the sauce for an extra creamy rich sauce.
Serve with green beans, if desired.
Enjoy!