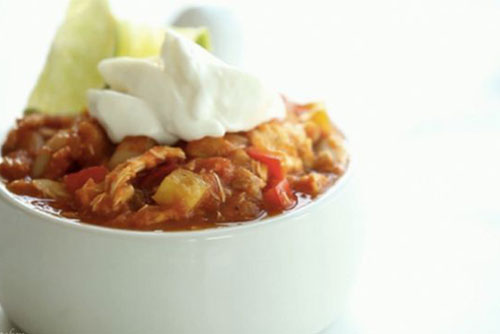 Preparation Time: 20 minutes
Total Time: 45 minutes
Servings: 4
Ingredients
1 tbsp olive oil1 medium onion
diced1 red bell pepper diced
1 yellow bell pepper diced
28 oz can diced tomatoes
19 oz can of white kidney beans
14 oz pumpkin puree
1-2 tsp chili powder
1 chipotle in adobo sauce
1/2 tsp cumin
1/4 tsp cinnamon
2 cups shredded cooked turkey
Juice of 1 lime
Salt and pepper, to taste
Directions
Sauté the onion and bell peppers in a tablespoon of olive oil until softened over medium heat.
Next add in my diced tomatoes, white kidney beans, pumpkin puree, chili powder, chipotle in adobo, cumin and cinnamon.
Simmer on medium low heat for 20 minutes before adding in the turkey and lime juice, stirring to warm through.
Season with salt and pepper to taste.