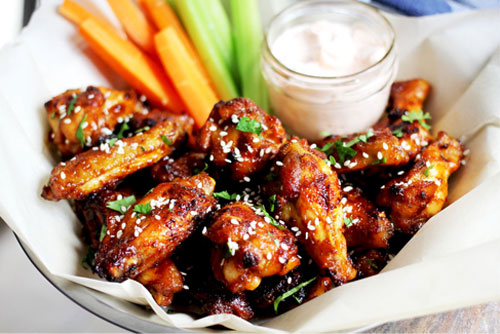 Prep time: 30 mins
Total time: 1 hour and 35 mins
Serves: 6
Ingredients
3 lbs chicken wings
Rub
3 Tbsp butter, melted
1 tsp garlic powder
1 tsp mustard powder
1 tsp paprika
1 Tbsp brown sugar
¼ tsp cayenne
Salt & pepper
Sauce
3 Tbsp butter
1 Tbsp rice wine vinegar
1 tsp ginger, minced
1/3 cup maple sugar
1/3 cup Sriracha sauce
1 Tbsp lime juice
1 Tbsp Worcestershire sauce
1 tsp cornstarch
Creamy Sriracha Dip
2 Tbsp Sriracha sauce
1 cup high quality, high fat sour cream
Garnish
Sesame seeds
Cilantro, chopped
Lime wedges
Directions
Preheat oven to 400°F.  Line a baking sheet with parchment paper.  Put chicken wings in a large bowl and set aside.
Make the rub: In a large bowl, combine all the rub ingredients together.  Pour the rub over the chicken wings and using your hands, toss to coat.  Place the wings in a single layer on the parchment lined baking sheet.
Place the tray on the middle rack of the oven and Bake for 50-55 minutes or until the chicken is cooked through and the skin appears brown and crispy.
Make sauce:  Melt the butter in a small pot over medium high heat.  Add all ingredients to the pot except for the corn starch and whisk to combine.  Bring the sauce to a boil and cook for about 1 minute, stirring constantly.  Whisk in the cornstarch just until thickened (about 30 seconds).  Remove from the heat and set aside.
Once the wings are cooked through, carefully remove the tray from the oven and set the oven to broil.  Using tongs, put wings into a bowl and pour over the prepared sauce.  Toss to coat.  Carefully pour out any extra liquid from the baking tray and using tongs, put the coated wings back on to the tray being sure they are not crowding each other.  Use a heat safe kitchen brush to paint on some extra sauce (do not dump all of the extra sauce over wings because this may prevent them from browning and crisping).
Place the tray back on to the middle rack and broil for about 4-5 minutes or until the wings have a coloured crispy skin (be sure to keep watch because the broiler can burn the wings very quickly).
Remove the baked wings from the oven and place them on a serving platter.  Sprinkle with sesame seeds, cilantro and lime.  Serve hot with the creamy sriracha dip on the side.
Tips:
If you don't like spice, reduce or eliminate the cayenne pepper and Sriracha sauce from the recipe..