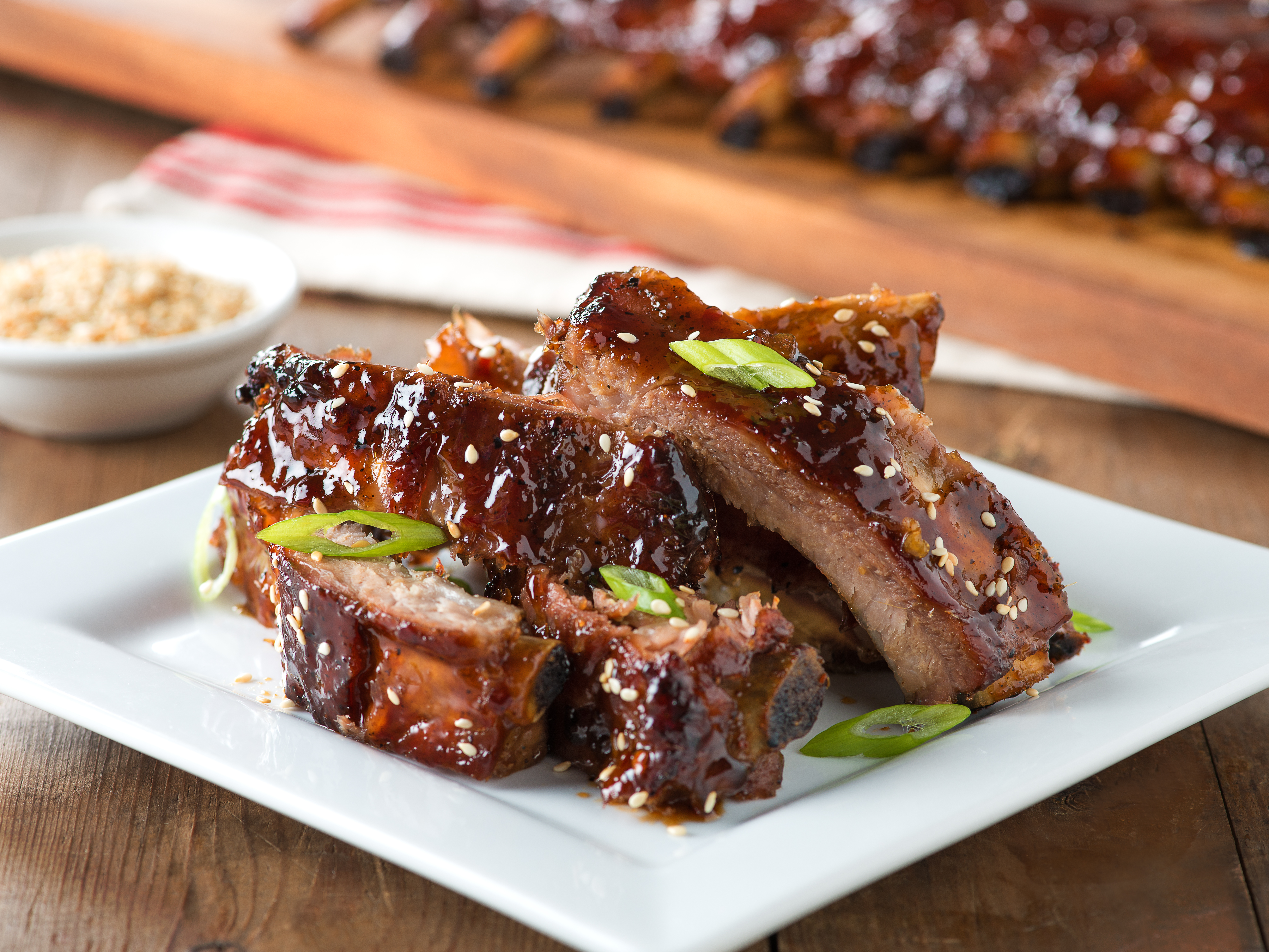 Preparation Time: 20 minutes
Total Time:  3 hours, 20 minutes
Servings: 8
Ingredients
Ribs
2 tbsp canola oil
2 tsp kosher salt
1 tsp freshly ground pepper
1/4 tsp ground allspice
1 tsp hot chili flakes
1 tbsp brown sugar
1 tbsp minced ginger
2 cloves garlic, minced
2 racks LiberTerre back ribs, about 4 lb/2 kg
1/2 cup orange juice
Glaze
3/4 cup hoisin sauce
1/3 cup honey
1 tbsp soy sauce
2 tbsp rice wine vinegar
1 tbsp minced ginger
1 tbsp sesame oil
1 tsp Asian-style hot sauce
2 green onions, chopped
2 tbsp toasted sesame seeds
Directions:
Glaze
Whisk hoisin sauce with honey, soy sauce, rice wine vinegar, ginger, sesame oil, and hot sauce.
Ribs:
Stir canola oil with salt, pepper, allspice, chili flakes, brown sugar, ginger and garlic. Rub all over both racks of ribs. Let stand for 30 minutes.
Preheat the oven to 300°F. Line a baking sheet with foil. Arrange the ribs on a baking sheet fitted with a rack; pour orange juice over ribs. Cover with foil and bake for 2 hours.
Remove foil and continue to bake, basting with the glaze every 30 minutes, for an additional 60 to 90 minutes or until bones move easily within the meat. Cut into 3-bone portions and arrange on a serving platter. Garnish with green onions and sesame seeds.
Bring remaining glaze to a boil, cook for 1 minute before serving remaining glaze with ribs.
Enjoy!