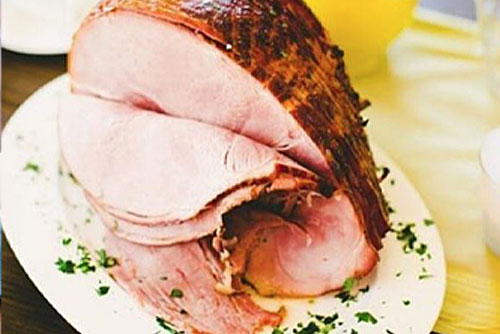 Preparation Time: 10 minutes
Total time:
Quarter: Approx. 48 minutes
Halve: Approx. 1 hour and 25 minutes
Ingredients
LiberTerre Spiral Sliced Ham
Optional Honey Mustard Glaze:
½ cup dijon mustard, 2 cups brown sugar
¼ cup liquid honey
Directions
1. Wrap LiberTerre ham tightly in foil or place it in an oven roasting bag, and place on an oven approved tray or pan.
2. Preheat the oven to 160°c (325°f) and heat ham for 20 minutes per kilogram.
Optional Honey Mustard Glaze
1. Mix ½ cup dijon mustard, 2 cups brown sugar, ¼ cup liquid honey together in a bowl.
2. Brush on ham for final 10 minutes cooking time.
Please note, the ham is already fully cooked.
Enjoy!