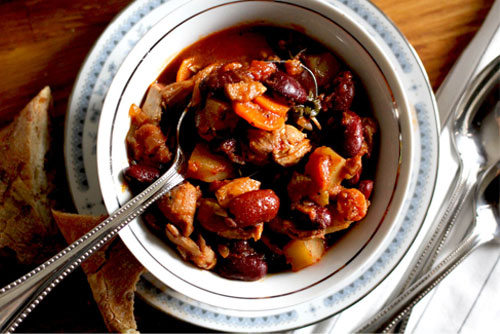 Preparation Time: 20 minutes
Total Time: 50 minutes
Servings: 6
Ingredients
3 tablespoons olive oil
2 stalks celery, sliced
1 large carrot, peeled and sliced into thin coins
2 small potatoes diced into ¼ inch pieces
1 small onion, chopped
2 cloves garlic, crushed
½ tsp dried chili flakes (or more if you like spice.)
Salt and freshly ground black pepper
¼ cup dry red wine
14 1/2-ounce can chopped tomatoes
1 tablespoon tomato paste
2 cups chicken broth
1 bay leaf
1 teaspoon fresh thyme leaves
1/2 cup fresh basil leaves, roughly chopped
8 chicken thighs (about 1 1/2 pounds total), trimmed and cut into chunks
1 (15-ounce) can kidney beans, drained and rinsed
Crusty bread for serving
Directions
Season the chicken pieces with salt and pepper.  In a large heavy bottomed pot, heat the oil over medium heat until hot, but not smoking.  Add the chicken pieces to the pot and cook until the chicken is browned and almost cooked through (about 5-7 minutes).  Transfer to a plate and set aside.
Deglaze the pan with the red wine and use a wooden spoon to scrape any bits off the bottom of the pot.  Let the wine simmer for 2 minutes.  Add the chili flakes, and then the chopped onions, garlic, celery, carrots and potatoes to the pot and sauté the vegetables until the onion is translucent (about 5 minutes).  Add the cooked chicken pieces back into the pot.  Stir in the tomatoes and their juices, the tomato paste, chicken broth and then the herbs (basil, thyme and bay leaf).
Bring the stew back up to a boil. Reduce the heat to medium-low and simmer gently uncovered until the chicken is almost cooked through, stirring frequently, about 20 minutes. Discard the bay leaf and stir in the kidney beans to the pot and simmer until reduced slightly into a thick stew consistency (about 10 minutes).  Ladle the stew into six bowls and serve hot with warm, crusty bread.