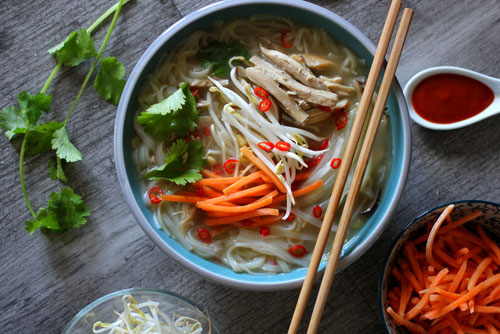 Prep time: 15 min
Total time: 25 min
Serves: 4
Ingredients
8 oz rice noodles
12 oz shredded chicken
Broth
1 medium onion, halved
2 cloves garlic, whole
1 4-inch piece of ginger
4 cups chicken broth
1 star anise pod
1 cinnamon stick
4 oz mushrooms, chopped
4 scallions, finely sliced
1 tablespoon fish sauce
1 tablespoon sriracha sauce
Salt and pepper, to taste
1 cup fresh bean sprouts
1 lime, cut into 4 wedges
Optional Garnishes:  Thai chillis, shredded carrots, basil or cilantro.
Directions:
Heat an oil coated medium soup pot to medium-high heat.  Add the onion (cut side down), garlic and ginger.  Cook, stirring occasionally, until the garlic is golden brown (about 3-4 minutes).  Add broth, star anise, cinnamon stick and bring to a boil.  Add the fish and Sriracha sauces to the broth.  Reduce the heat and simmer until the flavours come together (about 8-10 minutes).  Add the mushrooms and scallions and simmer for 2 minutes.
Discard the ginger, garlic, star anise and cinnamon stick.  Remove the onion and carefully slice it and set aside.  Taste your broth and season with salt and pepper, if needed. Add the chicken (or other leftover protein) to the broth until heated through.
In the meantime, bring a medium pot of water to a boil and cook the rice noodles according to package directions.  Drain the noodles and divide amongst 4 bowls.
Ladle the broth and chicken into the bowls and divide the sliced onion amongst the bowls.  Garnish with fresh bean sprouts, and other optional garnishes.  Serve hot with lime wedges on the side.