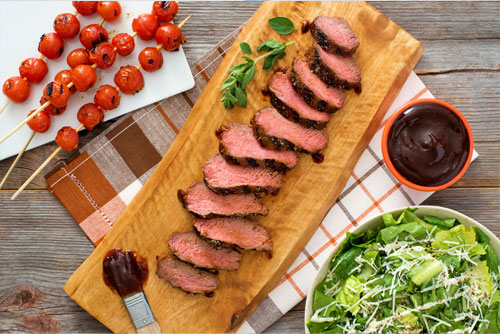 Preparation Time: 20 minutes
Total Time: 50 minutes
Servings: 4
Ingredients
Petit Tender
1 LiberTerre Petit Tender (about 13 oz/360 g)
1 tsp (5 mL) paprika
1/2 tsp (2 mL) each dried oregano, smoked paprika and garlic powder
1/4 tsp (1 mL) each salt and freshly ground pepper
1/4 tsp (1 mL) dry mustard
Barbecue Sauce
1 cup (250 mL) ketchup
2 tbsp (30 mL) apple cider vinegar
1 tbsp (15 mL) packed brown sugar
1 tbsp (15 mL) fancy molasses
1 tsp (5 mL) Worcestershire sauce
1 clove garlic, minced
1 tsp (5 mL) paprika
1/4 tsp (1 mL) each salt, freshly ground pepper and hot pepper flakes
Grilled Caesar Salad & Cherry Tomato Skewers
1 pint (2 cups) cherry or grape tomatoes
2 heads Romaine lettuce, quartered
1 tbsp (15 mL) red wine vinegar
1 clove garlic, minced
1/2 tsp (2 mL) anchovy paste
1/2 tsp (2 mL) Dijon mustard
Pinch each salt and freshly ground pepper
3 tbsp (45 mL) extra-virgin olive oil
2 tbsp (30 mL) grated Parmesan cheese
Directions
Place petit tender on foil-lined baking sheet. Stir together paprika, oregano, smoked paprika, garlic powder, salt, pepper and mustard; rub all over petit tender. Let stand for 20 to 30 minutes.
Barbecue Sauce: Meanwhile, in saucepan, bring to boil ketchup, vinegar, 2 tbsp (30 mL) water, brown sugar, molasses, Worcestershire sauce, garlic, paprika, salt, pepper and hot pepper flakes over medium heat. Reduce heat; simmer for 10 minutes. Set aside.
Grilled Caesar Salad and Cherry Tomato Skewers: Preheat grill to medium heat; grease grate well. Thread cherry tomatoes onto soaked bamboo or metal skewers; grill, turning, for 10 minutes or until browned and blistered. Remove from skewers. Meanwhile, grill romaine lettuce, turning, for about 4 minutes or just until lightly charred. Remove and tear into bite-size pieces. Set aside.
In food processor, process vinegar, garlic, anchovy paste, mustard, salt and pepper. With machine running, slowly add olive oil through feed tube until dressing is emulsified; add Parmesan cheese.
Increase heat to medium-high; lightly grease grate. Sear beef for 3 minutes on each side. Reduce heat to medium; cook, turning, for 15 to 20 minutes or until internal temperature reaches 145°F (63°C) for medium doneness, basting with about 2 tbsp (30 mL) Barbecue Sauce in the last 5 minutes of cooking.
Toss grilled romaine lettuce with dressing and top with tomatoes. Serve petit tender with remaining Barbecue Sauce and Grilled Caesar Salad and Cherry Tomatoes.
Enjoy!