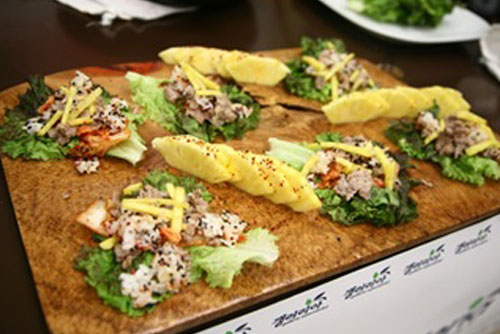 Preparation Time: 20 minutes
Total Time: 40 minutes
Serving: 4
Ingredients
3 Liberterre Maple-Garlic Pork Sausages
½ cup cooked rice
½ cup finely cubed pineapple
½ cup kimchi (fermented cabbage)
½ tsp black sesame seeds
½ tsp toasted white sesame seeds
½ tsp Korean red chili pepper flake
½ tsp sesame oil
1 tsp gochujang (hot pepper paste)
4 pieces red leaf lettuce
1 green onion stalk finely chopped
1 tsp vegetable oil
Directions
In a frying pan on medium heat add vegetable oil
Remove sausage meat from casings and fry meat until cooked through
Mix rice with sesame seeds and sesame oils
Lay out all 4 pieces of red leaf lettuce and brush up the centre with gochujang
Evenly lay out the kimchi then add 2 tsp-1 tbsp of sausage meat
Top with rice, pineapple and green onion
Serve to your guests as a delicious finger food!
*** Gochujang can be replaced with a thick hot sauce and the Korean red chili pepper flake with standard chili flakes or cayenne. The red leaf lettuce may be substituted for romaine or Boston lettuce.
Enjoy!