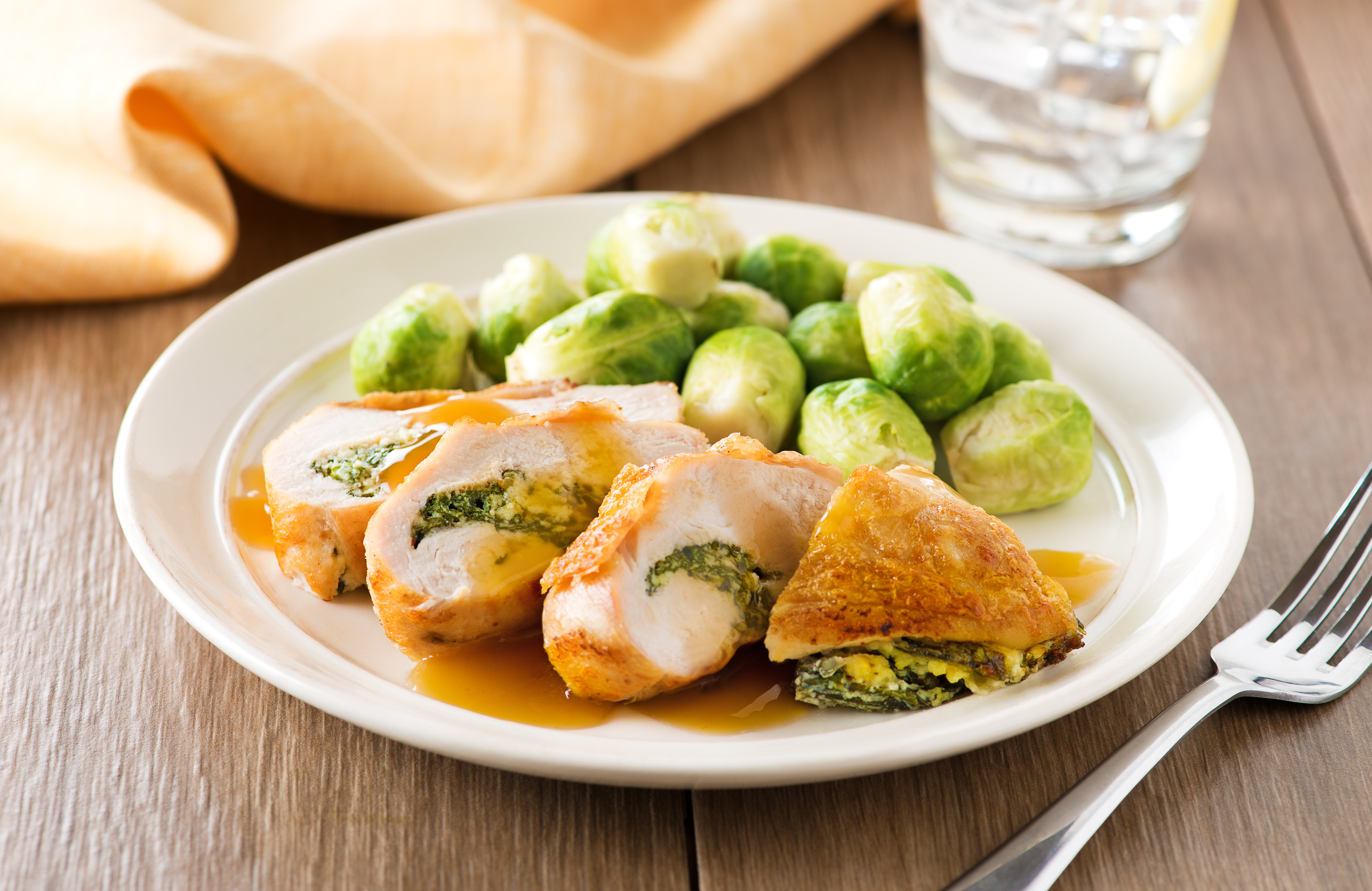 Preparation Time: 20 minutes
Total Time: 45 minutes
Serves: 4
Ingredients
3 tbsp olive oil, divided
3 cups packed baby spinach
4 LiberTerre chicken breasts, boneless, skin-on or off
3/4 cup ricotta
1/3 cup grated mozzarella cheese
2 tbsp grated Parmesan cheese
1 egg yolk
2 tbsp chopped fresh basil
1 clove garlic, minced
1/2 tsp finely grated lemon zest
3/4 tsp salt, divided
1/2 tsp freshly ground pepper, divided
Pinch ground nutmeg
Directions
Heat 1 tbsp oil in skillet set over medium heat. Stir in spinach; cook for 2 to 3 minutes or until wilted. Cool completely. Squeeze dry.
Preheat the oven to 400°F. Stir ricotta with spinach, mozzarella, Parmesan, egg yolk, basil, garlic, half the salt and pepper, and nutmeg.
Slice each chicken breast in half through center, keeping the edge intact so it opens like a book. Season all over with remaining salt and pepper. Stuff each evenly with ricotta mixture. Secure with toothpicks.
Heat oil in a large, ovenproof skillet set over medium-high heat. Cook chicken for 3 to 5 minutes per side or until golden brown.
Transfer to oven. Bake for 15 to 20 minutes or until chicken is cooked through and juices run clean when pierced. Let rest for 10 minutes and remove toothpicks before serving.
Tip
For an easy pan sauce, stir in 1/4 cup dry white wine and 1/2 cup chicken broth to the skillet after the chicken has cooked. Cook until reduced and syrupy over medium high heat. Remove from heat and swirl in 2 tbsp butter. Spoon over chicken breasts.
Enjoy!