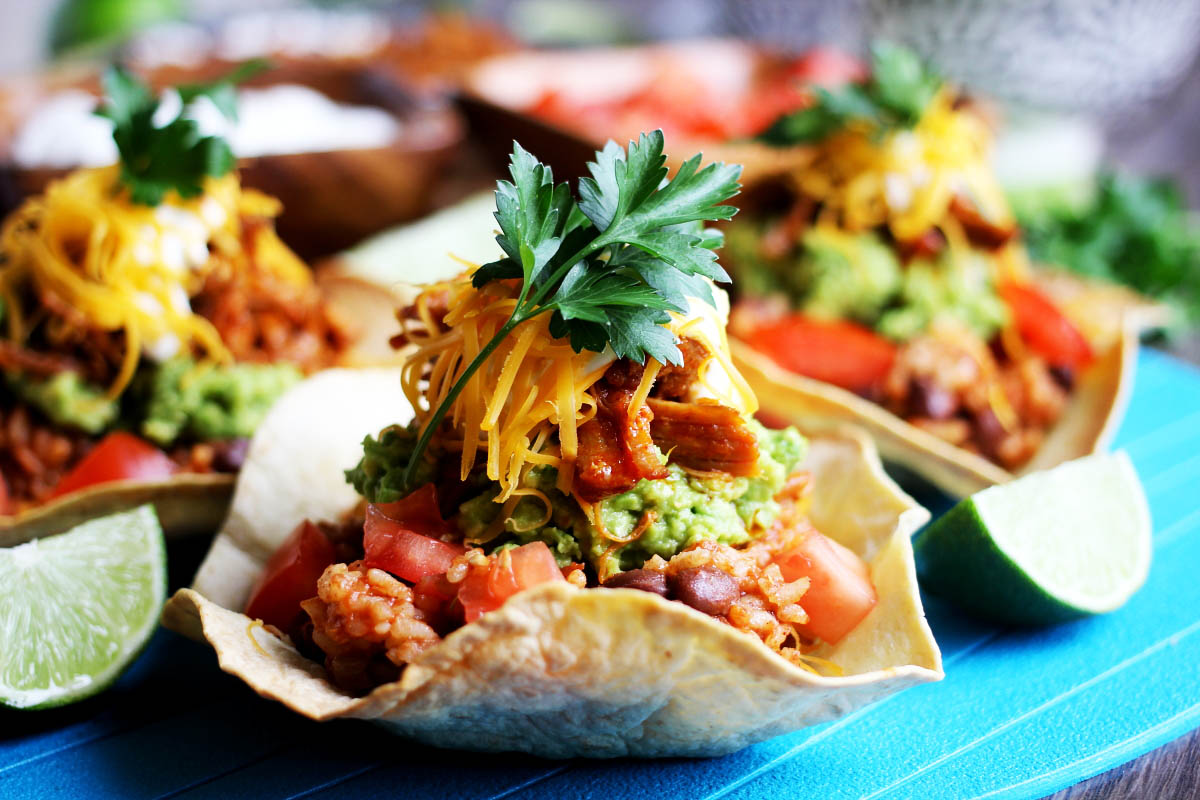 Prep time: 30 min
Total time: 3 hrs 30 min
Serves: 6
Ingredients
Pulled Pork
1 2-3 lb pork shoulder or pork butt
1 cup brown sugar
¼ cup sweet smoked paprika
¼ cup chipotle powder
¼ mustard powder
1 teaspoon Cayenne pepper
3 teaspoon garlic powder
¼ cup tbsp Olive Oil
1 bottle of beer
Burrito Rice
1 cup white rice
2 cups water
1 tablespoon butter
1/2 sweet yellow onion, chopped
2 cloves garlic, minced
1 teaspoon butter
1 tablespoon chili powder, or more to taste
1 tablespoon paprika
1 teaspoon ground cumin
1 teaspoon freshly cracked black pepper
1 teaspoon cayenne pepper
1 (15 ounce) can black beans, drained and rinsed
1 (8 ounce) can tomato sauce
Guacamole
2 Avocados
1 Lime
Salt & pepper to taste
Optional Toppings: Fresh Cilantro, shredded cheese, lime juice, jalapenos, sour cream and chopped tomatoes.
Directions
Pulled Pork: Begin by mixing all of the spices and the oil in a bowl and incorporate into a paste with your hands. Rub the mixture into your meat very well, massaging it to make sure the spices penetrate the meat. Put the meat into an oven safe dish. Pour in a bottle of beer. Seal your dish well with foil paper. Roast for 3-4 hours at 325°F.Remove the dish from the oven at the 3 hour mark and check to see if the meat is coming apart from the bone easily. If it is not, roast it for a little longer. Once it is cooked and easily comes apart, let cool to a temperature that you can handle the meat with your hands. Take the pork with your hands and shred it using your fingers. Discard extra cartilage, bone and fat.Add the shredded pork back into the dish with the drippings. Reheat your meat, if needed, in the oven at 350°F for about 10-15 minutes. Keep warm until you are ready to use it or store in your refrigerator in an airtight container for up to 5 days.
Burrito Bowl: Bring rice and water to a boil in a saucepan over high heat. Reduce heat to medium-low, cover, and simmer until the rice is tender and the liquid has been absorbed, 15 to 20 minutes.Melt 1 tablespoon butter in a large skillet over medium heat. Cook and stir onion and garlic in hot butter until onion is translucent, 5 to 6 minutes. Melt 1 more tablespoon butter with onions and garlic; stir chili powder, paprika, cumin, black pepper and cayenne pepper into mixture. Cook, stirring often, for 2 minutes.Stir black beans and tomato sauce into contents of skillet; bring to a simmer, reduce heat to low, and cook until flavors blend, about 10 minutes. Remove from heat. Mix your plain cooked rice with your bean mixture until combined.
Tortilla Bowls: Preheat the oven to 350°F. Heat the tortillas in the microwave for 30 seconds. Rub each tortilla with a little oil and gently press the tortilla around the outside of an oven safe bowl. Place the bowl on a baking sheet and put in the oven. Bake for about 10 12 minutes or until the tortilla appears browned and crisp.
Guacamole: Cut the avocados in half, remove the pit and spoon out the fruit into a bowl. Mash the avocados, add lime juice and stir. Season with salt and pepper to taste.
Serve: Add rice, pulled pork, guacamole, sour cream, tomatoes, cheese and cilantro to each tortilla bowl.