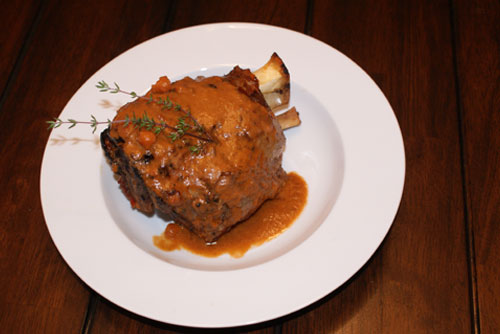 Preparation Time: 30 minutes
Total Time: 2.5 hours
Servings: 4
Ingredients:
1 tbsp Olive Oil
2 Whole LiberTerre Pork Hocks or Shanks
Salt & Pepper
1 Medium Onion
1/2 Cup Chopped Carrots
1/3 Cup Chopped Celery
2 Cloves Garlic Crushed
1 Cup Red Wine
1 Cup Beef Broth
396mL Can Diced Tomatoes
Bouquet Garni made from peel of one lemon, 2 sprigs fresh Thyme, 1 Bay Leaf
Directions
Preheat oven to 350 F.
Season Pork Shanks with Salt & Pepper. In a large skillet, heat oil and brown shanks on all sides. Transfer to casserole or roasting pan.
In the same large skillet used earlier, sauté the vegetables and garlic in the meat pan until they brown. Add the Wine to the vegetable mixture and cook down until most wine is cooked off. Add the Beef Stock and Diced Tomatoes with juice and bring to a boil.
Pour the vegetable mixture into the casserole dish with the pork and add the Bouquet Garni.
Slow Roast about 2 hours until meat is tender and falling off the bones.
Remove the Pork Shanks from the sauce.
Use a blender to puree the sauce until smooth.
Additional Sides
Serve with mashed or roasted potatoes or pasta.
Enjoy!