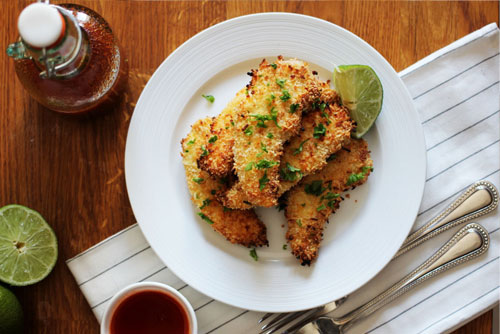 Prep time: 20 mins
Total time: 1 hour and 35 mins
Serves: 6
Ingredients
Chicken Tenders
1 and 1/2 pounds skinless, boneless chicken breasts
1 cup sweetened shredded coconut
1 cup Panko
1/2 cup all-purpose flour (seasoned with salt and pepper)
2 large eggs
chopped cilantro for garnish
Sweet Sriracha Dipping Sauce
1/4 cup honey
1/4 cup fresh lime juice
3 tablespoon Sriracha sauce
Pinch of salt
Directions
Preheat oven to 425°F.  Line a large baking sheet with parchment paper.  Set aside.
On a sturdy plastic cutting board, cut the chicken breasts into strips by cutting each in half lengthwise.  If your breasts are really thick, fillet them so they are about 3/4 inch thick.
Combine the coconut with the Panko in a medium bowl. Set aside. In a second medium bowl, whisk the flour, salt, and pepper together. In a third bowl, whisk the eggs together.  Set up your dredging bowls: flour first, then the eggs, and last the coconut mixture.
Coat each chicken strip in flour, shaking off any excess. Then, dip in egg and let any excess drip off. Then generously roll in the coconut mixture, shaking off any excess.  Place each chicken strip onto the parchment lined baking sheet.
Bake on middle rack for about 15-20 minutes, turning once halfway, or until the chicken is no longer pink and the tenders are golden brown. Serve chicken while warm with the dipping sauce. Add cilantro garnish if desired.
To make the dipping sauce, combine honey, Sriracha sauce, lime and salt in a small bowl and whisk until combined.