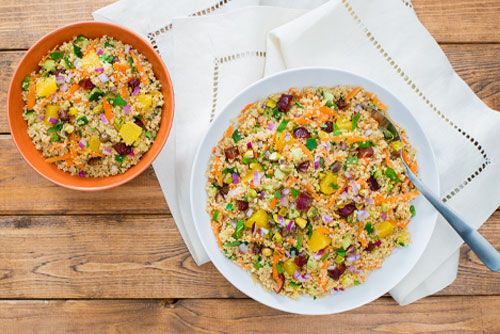 Preparation Time: 15 minutes
Total Time: 20 minutes
Servings: 4-6
Ingredients
Quinoa Salad
3 cups cooked quinoa
1 carrot, peeled and grated (about 1 cup)
1 cup finely chopped English cucumber
1/4 red onion, finely chopped
1/4 cup finely chopped fresh parsley
1/4 cup finely chopped fresh mint
1 tsp ground cumin
1/2 tsp ground coriander
1/2 tsp ground turmeric
1/2 tsp dried oregano
1/4 tsp paprika
1/4 tsp ground cinnamon
Pinch ground cayenne pepper
1 orange, segmented and chopped
1/4 cup chopped pitted Medjool dates
1/4 cup chopped toasted unsalted pistachios
Orange Dressing
2 tbsp tahini paste
1/3 cup orange juice
3 tbsp lemon juice
1 tbsp red wine vinegar
2 cloves garlic, minced
2 tsp minced ginger
1 1/2 tsp orange zest
1 tsp salt
1/4 tsp freshly ground pepper
Directions
Quinoa Salad
Stir quinoa with carrot, cucumber, red onion, parsley, mint, cumin, coriander, turmeric, oregano, paprika, cinnamon and cayenne. Toss with Orange Dressing. Gently toss in oranges, dates and pistachios.
Orange Dressing:
Whisk tahini paste with orange juice, lemon juice and vinegar until smooth. Stir in garlic, ginger, orange zest, salt and pepper.
Tips
1 cup dry quinoa yields 3 cups cooked quinoa.
For some extra protein, try adding leftover LiberTerre Chicken that has been cubed or shredded.
Make a large batch at the beginning of the week and take this nutritious salad for lunch. If kept in a tightly sealed storage container, cooked quinoa will keep in the fridge for up to 3 days.
Enjoy!