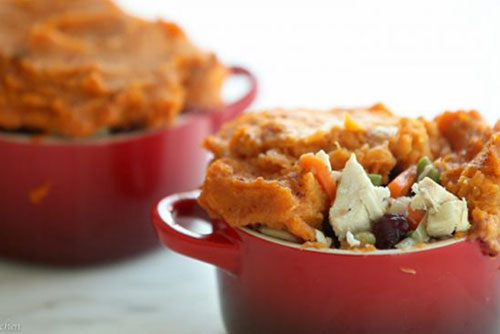 Preparation Time: 25 minutes
Total Time: 40 minutes
Servings: 6
Ingredients
1 leek, sliced
1 carrot, thinly sliced
1 stalk celery, thinly sliced
2 cloves garlic, minced
1/3 cup dry white wine
3 sprigs thyme, leaves only
3 tbsp whole wheat flour
2 cups leftover turkey broth
2 cups leftover turkey, shredded
2 cups leftover cooked vegetables (Brussels Sprouts, green beans, parnsips, peas etc.)
¼ cup leftover cranberry sauce
2 cups leftover mashed sweet potatoes
Directions
Preheat oven to 375°F.
Over medium heat, sauté sliced leeks, carrots and celery in a tablespoon of oil until soft. Add in the garlic and stir until fragrant.
Stir in the white wine until the alcohol evaporates, then stir in a little whole wheat flour, and fresh thyme leaves until the flour turns a light toasty brown.
Add in the turkey broth and simmer until the vegetables are tender and the sauce is thickened.
Next, add the cooked shredded turkey and leftover vegetables.
Transfer to 4 ramekins, top with a spoonful of leftover cranberry sauce and a layer of leftover mashed sweet potatoes and bake for 10-15 minutes until you see little bubbles escaping out the edge.