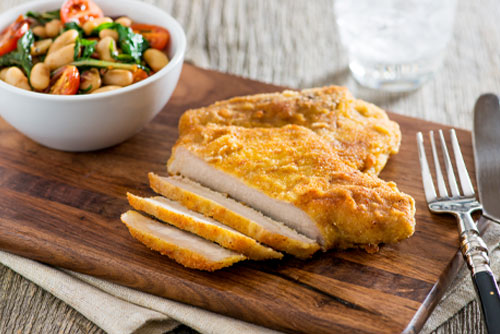 Preparation Time: 20 minutes
Total Time: 35 minutes
Servings: 4
Ingredients
Milanese Pork Chops
4 bone-in pork loin chops, centre cut (about 300g each)
2 cups dried breadcrumbs
1/3 cup grated Parmesan cheese
1/2 tsp each salt and freshly ground pepper
1/2 cup all-purpose flour
2 eggs, beaten
1/4 cup extra virgin olive oil
Warm Dandelion Greens and White Bean Salad
6 cups dandelion greens, trimmed and halved
1 cup halved grape tomatoes
2 tbsp finely chopped sundried tomatoes
2 tbsp balsamic vinegar
1/2 tsp salt
1/4 cup extra virgin olive oil
2 cloves garlic, cut into thin slices
2 tsp finely chopped fresh rosemary
Pinch hot pepper flakes (optional)
1 can (398 mL) cannellini beans, drained and rinsed
1/4 cup shaved Parmesan cheese
Directions
Milanese Pork Chops
Milanese Pork Chops: Toss the breadcrumbs with the Parmesan cheese; set aside. Season pork chops all over with salt and pepper. Coat each chop first in flour, then dip in beaten eggs and coat with breadcrumb mixture.
Heat oil in a large nonstick skillet set over medium heat. Cook pork chops, for 4 to 5 minutes per side or until golden brown.
Preheat oven to 375°F. Bake chops for about 5 minutes or until cooked through. Serve with Warm Dandelion Greens and White Bean Salad.
Warm Dandelion Greens and White Bean Salad
Add dandelion greens to boiling salted water for 30 to 60 seconds or until they start to wilt. Drain well, cool and squeeze out excess moisture.
Toss grape tomatoes with sundried tomatoes, balsamic vinegar and salt; set aside.
Heat olive oil in a large skillet set over medium-high heat. Add garlic, rosemary and hot pepper flakes (if using). Cook, stirring, for 1 minute or until garlic softens and fragrant. Stir in beans. Cook for 3 to 5 minutes or until heated through.
Add dandelion greens and grape tomato mixture; sauté for 1 to 2 minutes or until grape tomatoes are warmed but keep their shape.
Tip
Blanching the dandelion greens removes some of their bitterness.
Enjoy!