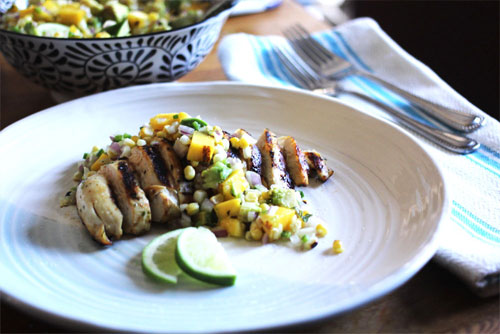 Prep time: 25 min (+ overnight marinating)
Total time:  35 min
Serves: 6
Ingredients:
Chicken:
2 lbs Liberterre Chicken Breast
1 lime, zested and juiced
1/3 cup tequila
¼ cup canola oil
2 Tbsp cilantro, chopped
1 Tbsp Cointreau
2 med cloves garlic, minced
1/8 tsp crushed red pepper flakes
Salt and pepper
Salsa:
1 Tbsp olive oil + more for grill
1 avocado, chopped
3 ears corn on the cob
1 large mango, chopped
1/2 medium red onion, finely chopped
1 Tbsp fresh cilantro, chopped
1 jalapeno, seeded and chopped
1 lime, zested and juiced
Directions:
Season your chicken all over with salt and pepper and place chicken in a resealable gallon size plastic bag and set aside.
Combine all ingredients: tequila, oil, Cointreau, lime juice and zest, garlic and pepper flakes, except chicken, in a small bowl or measuring cup.  Whisk to combine.  Pour the marinade over the chicken, seal the bag and place in the refrigerator to marinate for overnight hours (if possible).
When you're ready to cook, preheat grill to medium-high.
Make the salsa, Peel mango and cut into large pieces and set aside.  Pit and peel the avocado and cut in half lengthwise, set aside.  Remove the outer husks from the corn and set aside.  Rub the corn, mango and avocado with the oil and season with salt and pepper.  Grill the corn, avocado and mango until you have good grill marks all around and they start to become soft, about 10 minutes.  Transfer to a large, heat-safe bowl and cover with plastic wrap until cool enough to handle.
Finely chop the red onion, jalapeno and cilantro and add to a medium bowl.  Add juice and zest of 1 lime.  Chop the mango and avocados and add it to the bowl with the onion mixture.  Shuck your corn and add it to the bowl.  Drizzle the olive oil and incorporate all ingredients.  Season with salt and pepper.
 Grill chicken about 4-5 minutes on each side.  Serve with the grilled salsa and enjoy!