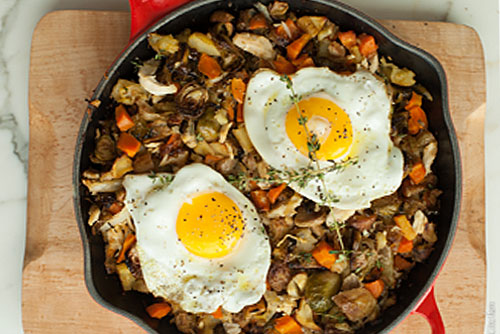 Preparation Time: 15 minutes
Total Time: 30 minutes
Servings: 4
Ingredients
1 tbsp olive oil
2 1/2 cups leftover Brussels sprouts shredded
1 onion thinly sliced
½ cup leftover cooked carrots diced
½ cup leftover cooked parsnips diced
2/3 cup leftover roasted potatoes diced
Herbs or spices of your choice
1 cup leftover turkey diced or shredded
2 eggs
Directions
Preheat oven to 350°F.
Heat a tablespoon of oil in a large non-stick skillet and add the shredded leftover Brussels sprouts, onion, leftover roasted carrots, parsnips, roasted potatoes and whatever herbs or spices you have on hand.
Once you get a nice crust on the bottom, flip, then add in a cup of leftover turkey and season with salt and pepper to taste. Make some wells to crack a few eggs into and transfer to the oven to bake until the whites are set and the yolks are still runny and delicious, about 10 minutes.