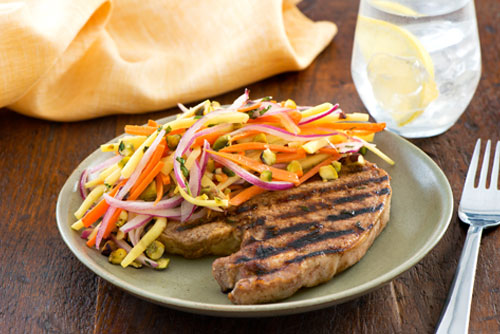 Preparation Time: 20 minutes
Total Time: 1 hour and 40 minutes
Servings: 4
Ingredients
Jerk Pork Chops
1/4 cup canola oil
2 tbsp fresh thyme leaves
1 Scotch bonnet, cut in half and seeded
1 tbsp brown sugar
1 tbsp minced ginger
1 tbsp soy sauce
1 tbsp lime juice
2 cloves garlic
2 tsp ground allspice
1 tsp ground cinnamon
1 tsp lime zest
1/2 tsp salt
1/4 tsp freshly ground pepper
4 bone-in pork loin chops, centre portion (approx. 300g each)
Lime Wedges
Mango-Carrot Salad
2 carrots, peeled and julienned
1 ripe mango, peeled and thinly sliced
1/4 red onion, thinly sliced
2 tbsp rice wine vinegar
2 tbsp canola oil
2 tsp minced ginger
1 tsp granulated sugar
1/4 tsp salt
1 tbsp chopped fresh mint
1/4 cup chopped unsalted pistachios
Directions
Jerk Pork Chops
Add oil, thyme, Scotch bonnet, brown sugar, ginger, soy sauce, lime juice, garlic, allspice, cinnamon, lime zest, salt and pepper to a food processor. Pulse until combined. Toss pork chops with jerk marinade. Cover and chill for at least 1 hour.
Grease grates well and preheat grill to medium-high heat. Grill the pork chops for 4 to 6 minutes until medium or until juices run clear and chops are a blush of pink in the centre. Let rest 5 to 10 minutes before serving. Serve with Mango-Carrot Salad.
Mango-Carrot Salad:
Stir carrots with mango, red onion, vinegar, oil, ginger, sugar and salt until well combined. Stir in mint. Garnish with pistachios.
Tips:
Always wear rubber gloves when handling hot peppers, like Scotch bonnet peppers.
If you prefer a milder flavour, substitute jalapenos for Scotch bonnet peppers.
Enjoy!