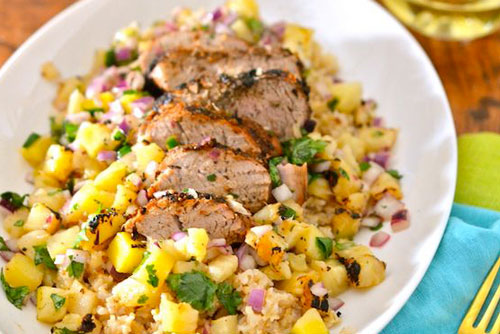 Prep time: 10 min
Total time: 2 hours 10 min
Serves: 6
Ingredients:
1 ½ lb LiberTerre pork tenderloin
½ cup jerk marinade
1 mango (sliced)
butcher's twine
Salsa
1 cup grilled pineapple, small dice
1 tbsp chives, finely chopped
½ tsp lime zest
½ tsp orange zest
½ tsp lemon zest
1 tbsp fresh orange juice
1 small red chili, finely sliced
1 tsp black and white sesame seeds, toasted
salt and pepper to taste
Directions:
Pre heat oven to 400°F. Butterfly tenderloin as demonstrated in video. Brush generously with jerk marinade, lay down mango slices and truss as demonstrated in video.
Place in oven and cook for approximately 17-22 minutes.
Meanwhile combine all ingredients for salsa in a mixing bowl and set aside in fridge.Remove tenderloin from oven when meat thermometer registers a minimum of 160°F.  Allow to rest for 5 minutes before slicing and plating with salsa.