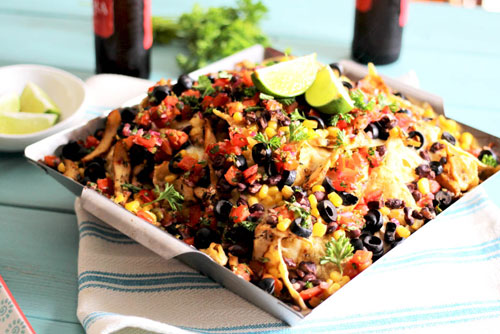 Prep time: 20 min
Total time: 50 min
Serves: 4-6
Ingredients
Cajun Chicken
4 skinless boneless chicken breast fillet
1 tbsp paprika
1 tsp garlic powder
¼ tsp cayenne pepper
2 tsp dried thyme
1 tbsp canola oil
Pico de Gallo
1/2 cup red onion, finely diced)
1 clove garlic, finely grated
1 lime, juiced
1/2 teaspoon salt
1 jalapeño pepper, minced
4 to 6 plum tomatoes, medium chopped
1/2 cup cilantro, chopped
Assembly
1/2 cup red onion, finely diced)
1 clove garlic, finely grated
1 lime, juiced
1/2 teaspoon salt
1 jalapeño pepper, minced
4 to 6 plum tomatoes, medium chopped
1/2 cup cilantro, chopped
Sour cream
Sliced avocado
Directions
Cajun Chicken: Dry chicken with paper towel and add to a large bowl, set aside.  Combine the spices and the oil in a small bowl to create a rub.  In the bowl with the chicken, add the Cajun rub and work the rub into the chicken with your fingers, being sure to distribute the rub evenly. Heat a barbecue, griddle pan or grill to medium-high heat, then cook the chicken for 3-5 mins on each side until cooked through.
Pico de Gallo: Chop the onion and place it in a small bowl. Grate the garlic using a microplane into the bowl. Cut the lime in half and juice it into the bowl. Add the salt to the lime, garlic and onions, stir, and set aside for a few minutes while chopping the rest of the ingredients. Slice the pepper in half, remove the seeds and finely mince it. Add it to the onion mixture.Chop the tomatoes into medium-sized chunks and add to the bowl. Roughly chop the cilantro and add to the bowl. Stir gently to combine. Add salt, lime juice and more cilantro to taste.Cover and let rest for a few hours in the refrigerator to blend the flavors.
Assembly: Preheat your barbecue to medium-high heat. Chop the grilled Cajun chicken into small pieces and set aside. If you are using a barbecue safe basket or a cast iron skillet, line it with foil paper and spray with non-stick spray.  Add one layer of nachos, then sprinkle with half the cheese, chicken, corn, beans and black olives.  Top the layer with the pico de gallo.  Make another layer of nacho chips on top and repeat with the rest of the cheese, chicken, corn, beans, black olives and pico de gallo.Bake in the preheated barbecue for 15-20 minutes or until the cheese is melted and bubbling.  Serve hot with your favourite beer or summer cocktails!