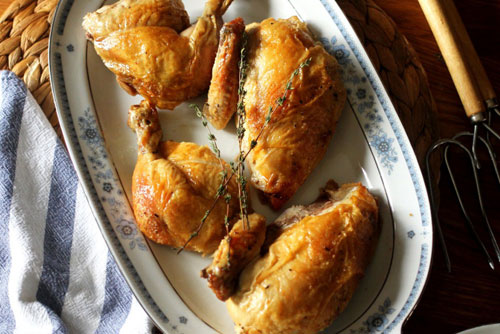 Prep time: 10 mins
Total time: 1 hour and 25 min
Serves: 4
Prep time: 10 mins
Total time: 1 hour and 25 min
Serves: 4
Ingredients
1 LiberTerre Whole Chicken, preferably twined (about 2-3 lbs)
¼ cup butter at room temperature
1 tbsp salt & pepper
Directions
Preheat the oven to 450°F. Pat your chicken dry using a paper towel. The less moisture on the chicken, the crispier the skin will get.
Generously salt the entire surface of the chicken so that it has a uniform coating.  Next, season your chicken lightly with pepper.
Place the chicken in a roasting pan and put the chicken in the preheated oven. Roast your chicken until the skin is crispy and golden, about 60 minutes (without any interruption).
Using large forks, carefully pick up chicken and put it onto a cutting board.  Pour the pan juices over the chicken and let it rest for about 15 minutes.  Butcher your chicken into 6 pieces using kitchen scissors and put onto a serving platter.  Slather the chicken pieces with butter and serve warm.
Tips
If you have any leftover chicken, remove it from the bone and save it in an airtight container in the refrigerator.