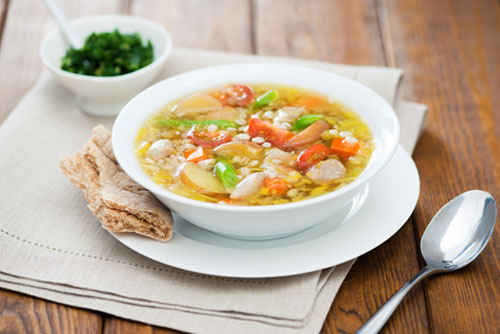 Preparation Time: 15 minutes
Total Time: 45 minutes
Servings: 6-8
Ingredients
Soup
2 tbsp olive oil
1 lb (500 g) LiberTerre skinless, boneless chicken thighs, chopped
1/2 tsp salt
1/4 tsp freshly ground pepper
1 onion, finely chopped
2 ribs celery, sliced
1 leek, sliced (white and light green parts only)
2 cloves garlic, minced
2 tsp finely chopped fresh rosemary
1/2 cup pearl barley
1/4 cup dry white wine
8 cups chicken broth
1 bay leaf
2 carrots, chopped
3/4 lb mini red skinned potatoes, quartered
1/4 lb green beans, trimmed cut into 1-inch pieces
1 cup halved cherry tomatoes
Gremolata
3/4 cup finely chopped fresh parsley
1/4 cup extra virgin olive oil
2 tbsp finely chopped fresh chives
2 tbsp lemon zest
1 clove garlic, minced
1/4 tsp salt
Directions
Soup
Heat oil in a Dutch oven or large saucepan set over medium heat. Add chicken, salt and pepper. Cook for 5 minutes or until golden. Add onion, celery, leek, garlic and rosemary. Cook, stirring occasionally, for 5 to 8 minutes or until vegetables are soft. Stir in barley. Cook for 2 to 3 minutes or until coated.
Add wine and bring to a boil. Add broth and bay leaf; bring to a simmer. Add carrots and potatoes; simmer over low heat for 30 minutes or until barley is tender. Remove bay leaf.
Stir in green beans and grape tomatoes. Simmer for 5 minutes or until green beans are tender. Serve with Gremolata.
Gremolata
Stir parsley with olive oil, chives lemon zest, garlic and salt.
Tip
erve with a crusty whole grain bread or pita for a hearty dinner soup.
Enjoy!