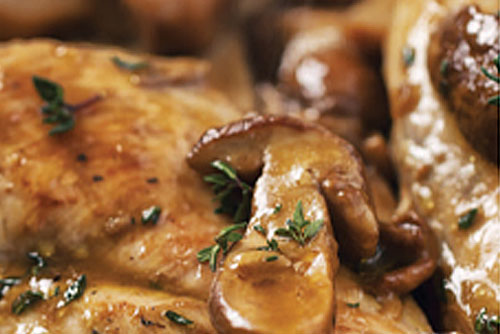 Preparation Time: 20 minutes
Total Time: 1 hour 20 minutes
Servings: 4
Ingredients
3 Tbsp butter
1/2 cup chopped shallots
8-10 ounces mushrooms, cremini or shitake, thickly sliced
1 teaspoon chopped fresh parsley
1 cup dry vermouth or dry white wine (such as Sauvignon Blanc)
2/3 cup heavy whipping cream (light cream may curdle, so use heavy cream)
3 Tbsp chopped fresh sage
1 Tbsp olive oil
1 1/4 to 1 1/2 pounds skinless, LiberTerre® boneless chicken breasts, pieces pounded to an even 1/4 inch to 1/3 inch thickness
Salt and freshly ground black pepper
Directions
Melt butter in a large sauté pan on medium high heat. Add shallots and sauté for one minute. Add mushrooms and parsley and sauté for 5-10 more minutes, until the mushrooms have browned. If you are using unsalted butter, sprinkle on a pinch of salt. Add vermouth and deglaze the pan, scraping up any bits that may be sticking to the bottom of the pan. Stir in the cream. Bring to a boil and cook the sauce down until it is thick enough to coat the back of a wooden spoon (about 10 minutes).
While the sauce is reducing, heat olive oil in another large sauté pan on medium high heat. Sprinkle salt and pepper over both sides of the chicken breast cutlets. Add cutlets to pan and cook for about 3 minutes on each side, until browned and cooked through. Stir in sage to sauce, season to taste with salt and pepper. Pour sauce over chicken to serve.
Serve alone (for low carb version) or with rice, mashed potatoes, or pasta (use gluten-free for gluten-free version). We used bow-tie pasta which worked great. Garnish with chopped fresh parsley.
Enjoy!