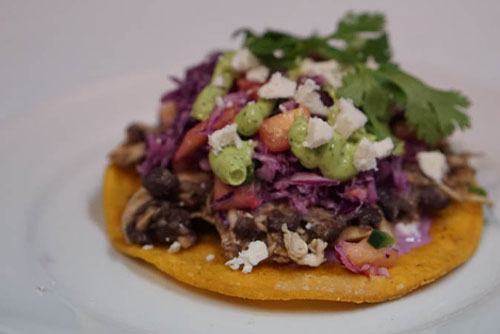 Preparation Time: 20 minutes
Total Time: 30 minutes
Serving: 4 to 6
Ingredients:
Tostada
8 small or 4 large corn tortillas
2 tsp olive oil
Pinch each of salt and chili powder
Crema
1 large ripe avocado, peeled and diced
1⁄2 cup cilantro leaves
1⁄4 cup 0% Plain Greek Yogurt
Juice of 1⁄2 – 1 lime (depending on size of lime)
Pinch each of salt and chili powder
Beans
1 tsp olive oil
1 can of lower-sodium black beans, rinsed and drained
1 tsp ground cumin
1⁄2 chipotle pepper in adobo sauce, finely minced
1⁄4 cup reduced sodium chicken broth
1⁄2 of a roasted LiberTerre chicken (1 breast & 1 leg), skin removed, meat shredded (see Easy Roast Chicken recipe)
Salt and pepper, to taste
Slaw
1⁄4 cup plus
2 tbsp 0% Plain Greek yogurt
2 teaspoon lime zest Juice of 1 lime
1⁄4 cup fresh pineapple juice
2 tsp honeyPinch of salt and pepper
2 cups finely shredded cabbage
1/2 jalapeno, deseeded, deveined and finely minced
2 tbsp green onions, minced
3 tablespoons fresh cilantro, chopped
1 cup fresh pineapple, diced
3-4 oz of Queso Cojita or Anejo, crumbled or grated 1 cup of cilantro leaves, for garnish
Directions
Tostada
Preheat oven to 400 F.
Brush both sides of the tortillas lightly with canola oil or spray lightly with an oil atomizer. Sprinkle lightly with a pinch each of salt and chili powder.
Line two baking sheets with parchment paper. Put the tortillas on the sheet and bake for 3-5 minutes on the first side, or until crispy and golden brown. Then turn them around and bake on the second side for another 3-5 minutes. Remove from the oven and allow to cool.
Crema
Place all of the ingredients into a food processor and puree until smooth, scraping the sides of the bowl with a rubber spatula as needed until fully combined. Transfer to a bowl and cover with plastic wrap (onto the surface) until your ready to use.
Beans
Heat up a teaspoon of the oil in a large skillet over medium high heat. Add in the beans, cumin and chipotle, and stir for 1 minute. Pour in the broth, and cook for another 3-5 minutes, smashing the beans slightly as they soften.
Take the pan off the heat and stir in the shredded chicken until warmed through. Taste, and season with salt and pepper as needed.
Slaw
Mix together the yogurt, lime juice, zest, pineapple juice, sugar, salt and pepper. Then toss with the cabbage, jalapeno, onions, cilantro and pineapple. Toss well and set aside until ready to use.
Assembly
Divide the black bean and chicken mixture between the tostadas, top with the slaw, a drizzle of the avocado crema, a sprinkle of the cheese and a few cilantro leaves to garnish.