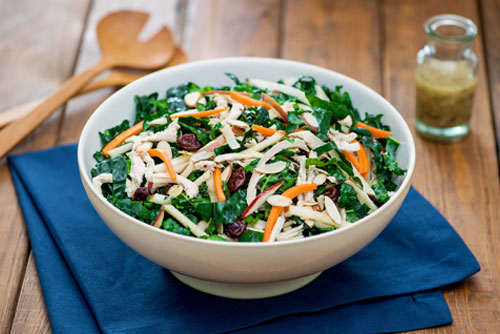 Preparation Time: 10 minutes
Total Time: 40 minutes
Servings: 4-6
Ingredients
Salad
1 lb (500 g) LiberTerre skinless, boneless chicken breasts
2 tbsp apple cider vinegar
2 sprigs fresh thyme
2 cloves garlic, halved
2 bay leaves
6 peppercorns
1 tsp salt
1 head Tuscan kale, stemmed and thinly sliced
1 carrot, peeled and cut into matchsticks (about 1 cup)
1 tart red skin apple, such as Honey Crisp, Fiji or Courtland, cut into matchsticks (about 1 cup)
1/4 cup toasted, skin-on sliced almonds
2 tbsp chopped dried cranberries
Honey-Mustard Dressing
1/4 cup extra virgin olive oil
2 tbsp apple cider vinegar
1 tbsp honey
1 tbsp grainy mustard
1 tbsp minced shallot
1 tbsp finely chopped fresh chives
1/2 tsp salt
1/4 tsp freshly ground pepper
Directions
Salad
Add 4 cups water, cider vinegar, thyme, garlic, bay leaves, peppercorn and salt to a medium saucepan set over medium heat. Bring to a simmer. Simmer for 5 minutes. Reduce heat to low until barely simmering.
Add chicken breasts; gently poach for 12 to 15 minutes or until just cooked through. Remove chicken from poaching liquid; discard liquid.
Cool chicken completely and shred. Add kale, carrot and apple to a large bowl. Toss with Honey-Mustard Dressing until coated. Stir in chicken, almonds and dried cranberries.
Honey-Mustard Dressing
Whisk olive oil with apple cider vinegar, honey, mustard, shallot, chives, salt and pepper.
Tips:
For a subtle spice, add a pinch of cayenne to the dressing.
If you can't find Tuscan kale, use regular kale. Tuscan kale is sweeter and more tender than regular kale.
Enjoy!