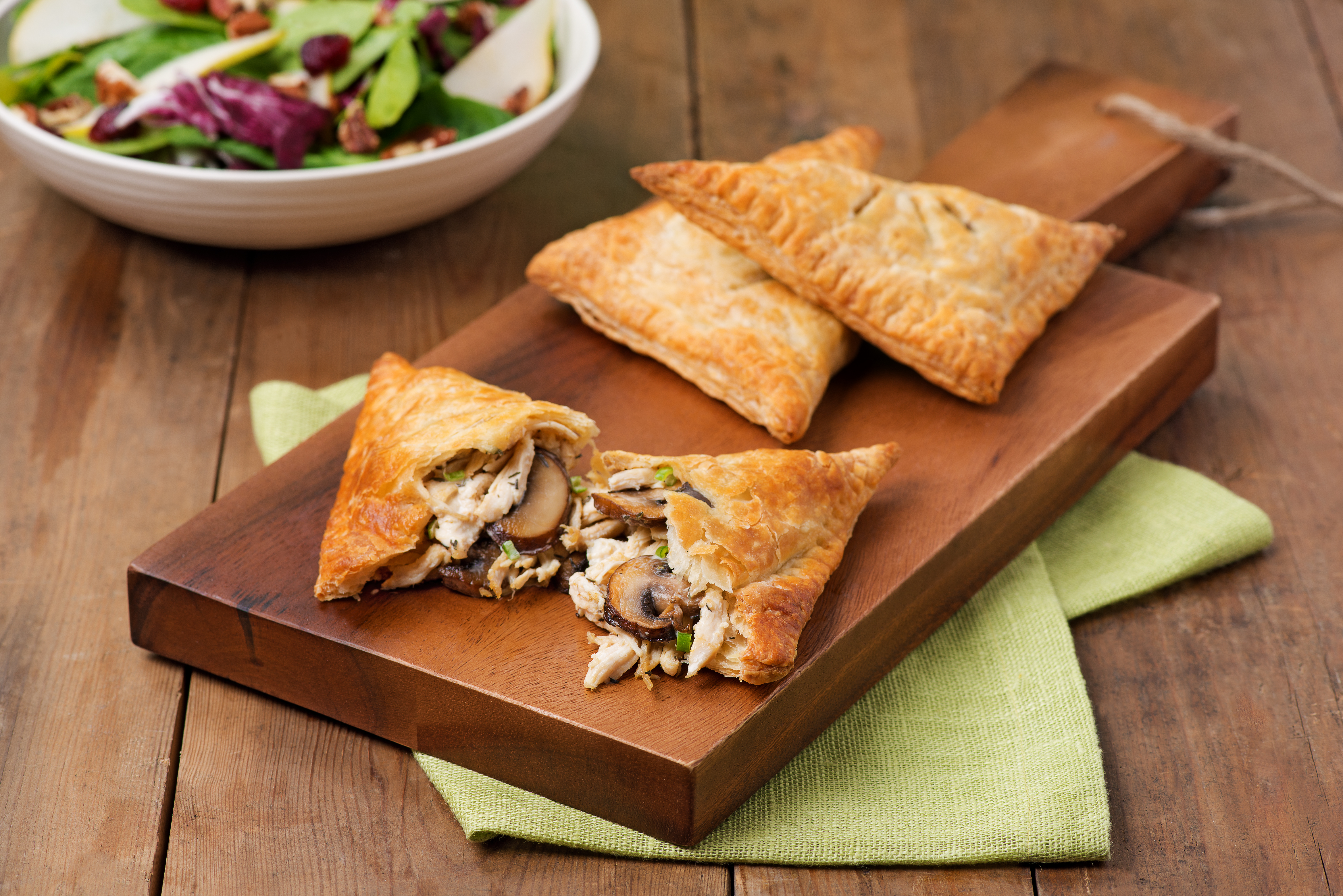 Preparation Time: 20 minutes
Total Time: 35 minutes
Servings: 4
Ingredients
Hand Pies
2 tbsp butter
2 cups sliced cremini mushrooms
1 tbsp chopped fresh thyme
1 clove garlic, minced
1/4 tsp each salt and freshly ground pepper
2 tbsp all-purpose flour
1/3 cup dry white wine
1 1/2 cups chicken broth
1 cup 35% whipping cream
1 1/2 cups shredded LiberTerre chicken
2 tbsp chopped fresh parsley
2 green onions, finely chopped
2 tbsp grated Parmesan cheese
1 package (500 g) puff pastry sheets, each 10-inch x 10-inch
1 egg, beaten
Green Salad
1/4 cup extra virgin olive oil
2 tbsp white wine vinegar
1 tsp Dijon mustard
1 tsp maple syrup
1/4 tsp each salt and freshly ground pepper
5 cups baby spinach
3 cups torn radicchio leaves
1 ripe pear, thinly sliced
1/4 cup dried cranberries
1/4 cup chopped toasted pecans
Directions
Hand Pies
Heat butter in large skillet set over medium high heat. Sauté mushrooms, thyme, garlic, salt and pepper for 4 to 5 minutes or until mushrooms are golden brown. Sprinkle with flour. Cook, stirring for 1 minute. Stir in white wine and cook for 1 to 2 minutes or until most of the liquid has evaporated. Slowly, stir in chicken broth; bring to a boil. Stir in cream. Add chicken; simmer, stirring occasionally, for 8 to 10 minutes or until sauce is reduced and thick. Stir in parsley, green onion, and Parmesan cheese. Cool completely.
 Preheat oven to 425°F. Whisk egg with 1 tbsp water; set aside. Lightly dust clean work surface with flour. Place pastry on top and cut each sheet into 4 even squares.
 Place about 1/4 cup chicken and mushroom filling in the center of each square. Brush the outer edge with egg wash. Fold over pastry to make a turn over. Crimp the edges with a fork to seal the pastry.
 Brush the pastry with egg wash. Cut vent holes in the center of hand pie. Bake for 20 to 25 minutes or until golden brown. Serve with cranberry sauce and Green Salad.
Green Salad
Whisk oil with vinegar, mustard, maple syrup and salt and pepper until combined. Toss spinach with radicchio, pear and vinaigrette. Stir in dried cranberries and pecans.
Tips:
Try this recipe when you have leftover roasted chicken for an easy weekday meal.
Freeze leftover chicken pies for a quick and easy meal any time.
Enjoy!