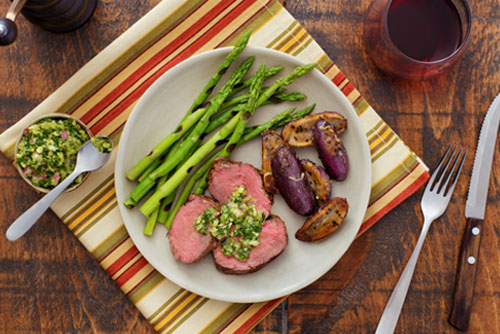 Preparation Time: 30 minutes
Total Time: 1 hour
Servings: 4-6
Ingredients
Salad
1 cup dry French du Puy lentils
1 lb boneless and skinless chicken breast
2 tbsp extra virgin olive oil
1 tbsp lemon juice
1 tsp Dijon mustard
1 tsp herbes de Provence
1/2 tsp salt
1/4 tsp freshly ground pepper
1 bunch asparagus (about 1 lb), trimmed
1 cup halved grape tomatoes
4 cups pea shoots
1/4 cup crumbled goat cheese
1/4 cup toasted chopped walnuts
Basil Vinaigrette
1/2 cup packed basil leaves
1/4 cup extra virgin olive oil
3 tbsp white wine vinegar
1 tsp honey
1 clove garlic, minced
1/4 tsp each salt and freshly ground pepper
Directions
Salad
Cook lentils in 3 cups boiling water for 15 to 20 minutes or until tender but not breaking down. Drain well and cool completely. Meanwhile, grease grates well and preheat grill to medium-high.
Stir olive oil with lemon juice, mustard, herbes de Provence, salt and pepper. Toss in chicken until well coated. Grill for 8 to 10 minutes per side or until cooked through. Grill asparagus, turning occasionally, for 3 to 5 minutes or until tender crisp. Let chicken rest for 10 to 15 minutes or until room temperature. Slice chicken and cut asparagus into bite-size pieces (approximately 1 1/2-inches).
Toss lentils with chicken, asparagus, tomatoes and some of the Basil Vinaigrette until well coated. Stir in pea shoots. Garnish with goat cheese and walnuts. Drizzle with some remaining dressing (if needed) or reserve for another use.
Basil Vinaigrette
Whisk basil with olive oil, vinegar, honey, garlic, salt and pepper.
Tips
Herbes de Provence is a blend of dried herbs and can be found in most grocery stores. Recipes vary but usually include oregano, basil, rosemary, thyme, savoury and sometimes lavender. Substitute a blend of dried oregano, rosemary or thyme, if desired.
For a stronger flavour, pulse all the basil vinaigrette ingredients in a food processor or blender.
Enjoy!