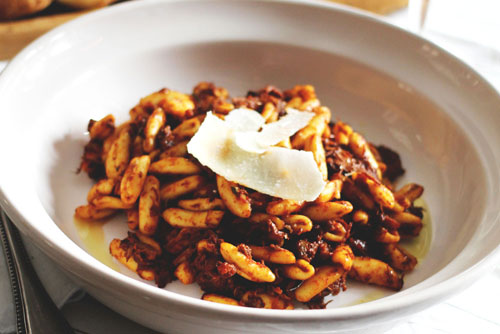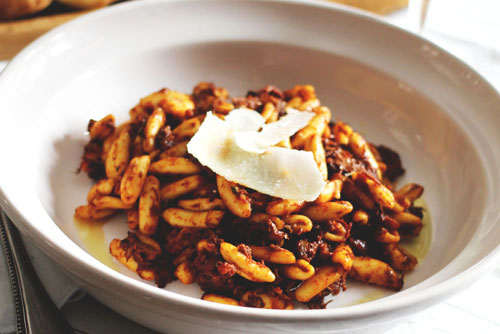 Prep time: 20 mins
Total time: 1 hour and 35 mins
Serves: 6
Ingredients
Extra-virgin Olive Oil
3 lbs Pork Shoulder, de-boned and cut into large chunks (trim off any rind and thick layers of fat)
2 onions, diced
6 cloves garlic, crushed
1 large carrot, chopped
3 ribs celery, chopped
1 bay leaf
2 sprigs fresh thyme
2 sprigs fresh oregano
2 spring rosemary
1 cup white wine
½ cup chicken stock
1 28oz can of crushed tomatoes
Salt and pepper, to taste
1 450g bag of cavatelli pasta
Parmesan Cheese for serving
Directions
Cut and prepare all of your vegetables and set aside (onion, garlic, carrots and celery). Wash and tie the herbs (thyme, oregano, rosemary and bay leaf) into a bundle using kitchen twine.  Pat the pork pieces dry with a paper towel (you will get a better sear on the meat if you remove the moisture).  Liberally coat the pork pieces with salt and pepper.
Heat a heavy bottomed sauce pot coated with olive oil over medium-high heat until hot but not smoking. Begin to sear both sides of your pork pieces being sure not to crowd the pot (about 3 minutes per side).  You may do this part in several batches as you want to make sure you have a nice sear on the pork.  Remove the meat from the pot and set aside.
Add your vegetables and herb bundle to the pot and cook until the vegetables have softened (about 8 minutes). Add the wine to the pot and use a wooden spoon to scrape any brown bits from the bottom of the pot.  Bring the wine to a simmer and continue to cook until the liquid has reduced by half (about 6-10 minutes).
Tips:
If you don't like spice, reduce or eliminate the cayenne pepper and Sriracha sauce from the recipe.