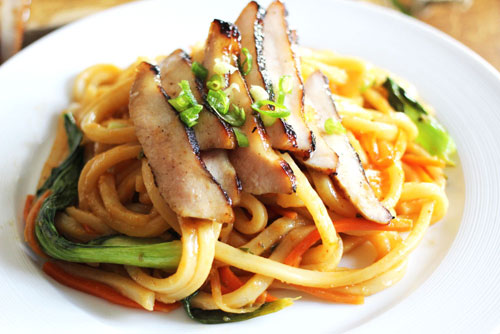 Prep time: 25 min (+ overnight marinating)
Total time:  1 hr
Serves: 4-6
Ingredients:
Char Siu Pork
Marinade:
2 pounds LiberTerre boneless pork jowl
2 Tbsp sugar
2 tsp salt
½ tsp five spice powder
¼ tsp white pepper
1 Tbsp Shaoxing wine
½ tsp sesame oil
1 Tbsp hoisin sauce
3 cloves minced garlic, minced
Basting Sauce:
1 Tbsp oil
1 Tbsp honey
1 Tbsp hoisin sauce
1 Tbsp warm water
Spicy Udon Noodle Stir-Fry
1 Tbsp. Canola oil
1/2 onion, sliced
2 carrots, finely chopped
1 cup green onion, sliced thin
400 g Frozen udon noodles
Sauce:
1 tsp sesame oil
1 Tbsp Sriracha Sauce
2 Tbsp brown sugar
1/4 cup soy sauce
2 tsp rice wine vinegar
2 cloves garlic, finely chopped
1 Tbsp fresh ginger, finely chopped
Garnish
Sliced green onion or freshly chopped cilantro
Optional: blanched bok choy
Directions:
Char Siu Pork
Combine the marinade ingredient in a bowl. Set aside.
Place the pork into a large re-sealable plastic bag and pour the marinade into the bag. Seal the bag and work the marinade into the meat until every piece is evenly coated. Refrigerate overnight.
The next day, place the pork on a plate, making sure to shake off the excess marinade in the bag. Too much marinade left on the meat will increase the chances of burning your pork.
Combine ingredients for the basting sauce in a bowl and get your basting brush ready.
Preheat your grill, making sure it's extremely hot. You want a nice sear on the meat to seal in the juices before you turn it, but try not to get it too crispy on one side. You will be turning the meat often during the cooking process to prevent burning and to make sure the marinade gets nice and caramelized.
After both sides are seared, you can turn the grill down slightly to prevent drying out the meat. Turn the meat every 2 to 3 minutes making sure to get an even sear on all sides. I also started to brush and baste the meat after each turn to keep it moist and flavorful. If the meat looks like it starts to get dry on the surface, it needs to be basted.
Continue this turning and basting – don't walk away from the grill! Also, make sure that you stop basting a few minutes before you pull the meat off the grill since the marinade was in contact with raw meat.
Your pork is ready when a meat thermometer (inserted into the thickest part of the meat) reads 160°F. Remove the jowl from the grill to let it rest for 5 minutes before slicing (this will allow the juices to redistribute). Serve with spicy udon noodles.
Spicy Udon Noodle Stir-Fry
Prepare the onions, carrots and green onion and set aside.
Combine all of the sauce ingredients in a small bowl and set aside.
Fill a large bowl with hot tap water and add the frozen udon noodles to the bowl so they defrost and separate before adding them to the wok.
Blanch your bok choy and then set aside while keeping it warm.
In a large frying pan or wok, heat oil over medium-high heat until very hot. Add carrots and regular onions and cook, stirring, until onions are soft and carrots are tender. Add green onion and cook, stirring for just about 30 seconds.
Gently mix your soaking noodles to loosen and separate, then drain. Add drained noodles to the wok and cook, stirring for 30 seconds. Add sauce and cook for another 30 seconds, stirring to combine well (TIP: Frozen udon noodles are pretty much already cooked and become overcooked very quickly so do not cook them for too long). Remove cooked noodles. add to a bowl and garnish with additional sliced green onion and/or cilantro. Serve with blanched bok choy.