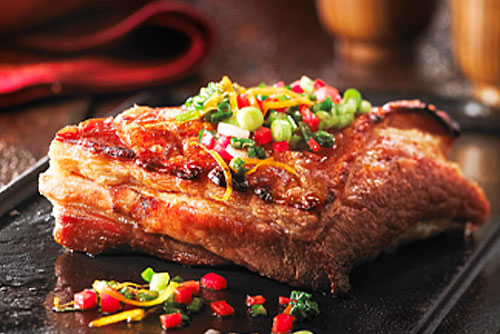 Preparation Time: 30 minutes
Total Time: 3 hours 45 minutes
Servings: 6
Ingredients
1kg portion of LiberTerre Pork Belly (Side Pork, Boneless, Skin On)
2 cloves garlic, minced
2 teaspoons grated ginger
¼ cup Korean Bulgogi or kalbi sauce
¼ cup hoisin sauce
¼ cup dry sherry
½ teaspoon olive oil
1 ½ teaspoons of course ground sea salt
½ cup brown sugar
Directions
Score the pork rind with a sharp knife so that it's evenly marked in diamond shaped 1cm intervals. Place pork in pot of boiling water for approximately 10 minutes, remove from water, drain and pat dry with paper towel.
Combine ginger, garlic, bulgogi sauce, hoisin, sherry and sugar in a glass dish big enough to hold the pork belly.
Place pork into mixture, rind side up, taking care not to get the mixture on the rind (rind needs to remain dry and exposed to air).
Refrigerate uncovered for 3-4 hours or overnight, allowing pork rind to dry. Preheat oven to 365°F. Remove pork from glass dish and place in roasting pan. Reserve marinade mixture. Roast for 45 minutes or until fork tender. Brush the skin lightly with olive oil and sprinkle with salt. Place under broiling elements until skin is crisp and tender. Alternatively, cook in foil pan on the barbecue.
Combine reserved marinade mixture and ¼ cup water in a small saucepan. Bring to boil, simmer uncovered for 10 minutes. Serve sauce with pork belly and sprinkle with chopped chives, peppers and julienne carrots.
Enjoy!